Other Facilities
Medical Insurance:
Presently staff members who have opted for medical insurance have a cover of Rs. 5 lac per year for critical illness. Similarly, students have medical insurance cover of Rs. 1 lac per year till date.
Medical Reimbursement:
| | |
| --- | --- |
| Form Name | File Name |
| Essential Certificate (Medical Reimbursement) | View/Download |
Medical Information:
Immunization is provided by District Hospital Staff as per WHO immunization schedule on every 1st Thursday of the month in NIT Health Centre.
Timing : 10:00 am to 02:00pm
Immunization Schedule for children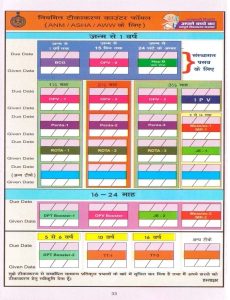 *Note: NIT Health Centre has no direct control on external immunization staff or their  schedule, which is subjected to change as per direction of CMO of District Hospital.
Pulse Polio Programme:
Pulse Polio Programme is conducted at Institute Health Centre by the State Government from time to time.
Hospital Circulars:
H
Recognised Hospitals:
All Government Hospitals/Dispensaries in Kurukshetra
LokNayak JAY Parkash (LNJP) Hospital, Kurukshetra
Shri Krishna Govt. Ayurvedic Medical Hospital, Kurukshetra
Private
List of Empanelled Private Hospitals:
| | | | |
| --- | --- | --- | --- |
| Sr. No. | Name of the Doctor | Field of Specialization | Contact No. |
| 1. | Aggarwal Nursing Home, Salarpur Road, Kurukshetra | Multispecialty | 9896050546 |
| 2. | Cygnus Hospital, Opp. Kassal Mall, Kurukshetra | Multispecialty | 8396961222 |
| 3. | Apna Hospital | Multispecialty | 9354522220 |
| 4. | Saraswti Mission Hospital | Multispecialty | 9468009020 |
| 5. | RadhaKrishan Children Hospital | Multispecialty | 7206029576 |
| 6. | Shri BalajiAarogyam Hospital | Multispecialty | 9466063671 |
| 7. | Anand Orthopaedic Centre | Orthopaedic | 9896038320 |
| 8. | J.P. Bharal Hospital | Orthopaedic | 9992377525 |
| 9. | Gandhi Nursing Home | Orthopaedic + Dental | 9896101599 |
| 10. | Kurukshetra Nursing Home | Physician, Cardiology | 9416039397 |
| 11. | B.S. Heart Care Hospital | Cardiology | 9991118281 |
| 12. | Kedar Children Hospital. | Child Specialist | 9812273737 |
| 13. | Pawan Surgical Hospital | Surgeon | 9812031635 |
| 14. | Surender Mehta Surgical and Maternity Hospital | Surgeon | 9812283184 |
| 15. | Dua Dental Clinic, | Dentist | 9416035422 |
| 16. | Aggarwal Dental Clinic | Dentist | 9896001916 |
| 17. | Virk Nursing Home | ENT | 9416035036 |
| 18. | Lalit ENT Hospital | ENT | 9466468841 |
| 19. | Saini Eye Care Centre | Eye | 01744-227050 |
| 20. | Ankur Nursing Home | Eye/O & G | 9896248149 |
| 21. | Sobti Nursing Home | Eye & Dental | 9896362621 |
| 22. | Life Line Physiotherapy Clinic | Physiotherapist | |
| 23. | Health Care Physiotherapy Clinic | Physiotherapist | 9354168115 |
| 24. | Bansal Skin Care Clinic | Skin | 01744270972 |
| 25. | Dermawave Skin Lazer | Skin | 7206536065 |
| 26. | Neuropsychiatry Clinic | Psychiatry | 01744-220646 |
| 27. | Jhamb Chest and Dental Clinic | Chest, Dental, Asthma, Allergy & T.B. Specialist | |
| 28. | Harsh Hospital | Paediatrician | 8950708799 |
| 29. | Archna MRI Centre | MRI | 9466720131 |
| 30. | Shri Swami Anant Prakashanand Memorial Dharmarth | Eye & Physiotherapy | |
| 31. | A.B.C. Centre | | |
| 32. | P.D. Memorial Chauhan Eye & Maternity Hospital | Eye & Maternity | |
| 33. | Shree Guru Kirpa Endocrine Clinic | Endocrine Clinic | |
| 34. | Goyal Gastro & Liver Clinic | Gastro & Liver | |
List of Private Hospitals/Labs for Tests Only
| | |
| --- | --- |
| SRL Diagnostics | Thyroid Test on dated 23rd of every month on payment at discounted rate |