Director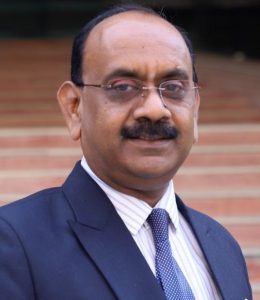 Prof. B.V. Ramana Reddy
National Institute of Technology Kurukshetra
 
Phone No. : 01744 – 233201, 01744 – 233204, 01744 – 238083
Fax : 01744-238494  Mobile No: 7497822212
Email-ID : director@nitkkr.ac.in
Brief CV of Director, NIT Kurukshetra
"Krishnam Vande Jagat Gurum"
Prof. BOMMAREDDY VENKATA RAMANA REDDY
He recently took over as Director, National Institute of Technology Kurukshetra on 05th February, 2022 (Basant Panchmi). Earlier he served as Professor at University School of Information & Communication Technology (USICT), GGSIP University New Delhi for the last 22 years (1999-2022). He was also the Chairman, Centralized Career Guidance and Placement Cell (CCGPC) of GGSIP University and Program Coordinator GGSIPU NSS Cell and NCC Cell having 15000 NSS volunteers and 500 NCC Cadets at GGSIP University.
He possesses an excellent academic track record both as teacher and as a researcher besides administrative acumen in technology areas of Information and Communication Technology (ICT). Been in service for the last 30 years. Earlier he served in various positions as Dean School of Engineering and Technology (USET). Dean of University School of Information and Communication Technology (USICT), Dean University School of Architecture and Planning (USAP), Chairman & Librarian for University Information Resource Centre (UIRC), served at national institutes of repute as faculty at NIT Kurukshetra (during 1991-95), NIT Hamirpur (1995-1999) and an alumnus of Andhra University, IIT Roorkee and NIT Kurukshetra.
He current research interests includes Wireless communications which include mobile, Adhoc and sensor based networks, computer communication networks, Semiconductor and VLSI circuits and microwave & optical communications. He has more than 100 publications in International, National journals and International Conferences to his credit. He produced Thirteen (13) Ph.D.'s, and currently supervising Eight (8) PhD scholars.
Besides, he is a Fellow of IETE, IE, ISTE and a member of other professional bodies such as IEEE,CSI and SEMCEI. He is an active member in various committees constituted by AICTE, UGC, NAAC, TEQIP and NIC. He visited foreign Universities situated in Singapore and China.
He is currently actively participating in educational reforms and value based education, in tune with National Skill Qualification Framework (NSQF) and contributed to vocational education in the country. He strongly believes in holistic development and growth of the next generation children, and dreams of a society where each and every species living on Earth lives harmoniously (VASUDEVA KUTUMBAKAM).Further, he strongly believes in to see glitter in the eyes of his subjects as an award, reward or recognition.
His vision for NIT KKR: He is focused on implementing NEP 2020 in toto at NIT Kurukshetra. He further wants to change the curriculum from outcome based education model into value based education model from the coming academic session 2022-23. The intent is to transform NIT KKR as Takshashila of yesteryears and bringing back India as Vishvaguru and put NIT KKR at the World map as leading educational institute offering holistic personalities to the World and produce leaders from NIT Kurukshetra. We are entering into 60th year of our existence and are upbeat.